There's a lot of background noise going on about capital punishment. The press plays up stories of alleged "exoneration," Jim Crow, drunk defense lawyers, cheating prosecutors, phony evidence, lethal injection supplies, and a great deal more.
Many of these are worth discussing. I think all of them have been discussed on this blog, some of them many times.
But in the din of secondary (though important) issues, we risk losing sight of the main item: We have the death penalty, and it continues to enjoy overwhelming public support, because there are instances where it is the only punishment consistent with the Eighth Amendment that comes close to fitting the crime.
Although you'd hardly know it, what with the legal blogosphere's recent obsession with Indiana's version of RFRA (as to which CJLF takes no position), there is a case currently underway that makes this unarguably clear. I have to give readers notice that this is rough sledding unless you're made of stone.
From
CNN
:
Boston (CNN)An 8-year-old boy who once urged people to "stop hurting each other" was literally blown apart by a homemade bomb as he watched the 2013 Boston Marathon with his family, jurors heard Monday.
Federal prosecutors rested their case with grisly testimony about how the bomb Dzhokar Tsarnaev placed near the marathon's finish line tore through the bodies of Martin Richard and Lingzi Lu, a 23-year-old grad student.
A second bomb placed by Tsarnaev's brother, Tamerlan, killed Krystle Campbell, a 29-year-old restaurant manager. Tamerlan Tsarnaev was killed in a gun battle with police three days after the bombing.
Martin's shredded, blood-stained clothes were displayed Monday in court.
No part of the boy's 69-pound body was left untouched by the explosion, said Henry Neilds, Boston's chief medical examiner. Neilds peformed the autopsy and concluded that Martin bled to death after suffering blast injuries to his torso and extremities.
Several jurors cried openly in court, and the boy's parents sat silently in the audience. Bill Richard lowered his head and held his wife, Denise, close during the graphic testimony and display of gruesome photographs.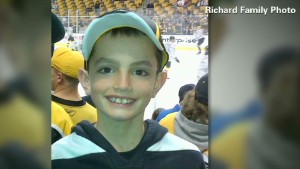 In his own testimony, Bill Richard had been unable to find the words to describe what he saw when he rushed to his son's side after the bomb went off:
"I saw a little boy who had his body severely damaged by an explosion," Richard told jurors earlier in the trial.
"This is difficult," he added, pausing to take a breath. "I just knew from what I saw that there was no chance. The color of his skin, and so on."
Neilds gave an official account of the wounds the boy's father found so hard to describe:
The bomb severed Martin's spinal cord and abdominal aorta; severed and exposed his lower intestines; ruptured his stomach; nicked or tore his liver, left kidney and adrenal gland; nearly tore off his left arm at the forearm; snapped a bone in his right leg; fractured and exposed his ribs; and bruised a lung.
Martin had third-degree burns on his back, buttock and left calf. His body was covered with scrapes, bruises and perforations from blast debris.
Many of the injuries were likely to result in death. But the most serious was his severed aorta. It is a major blood vessel, Neilds said, and Martin bled to death in minutes, if not seconds.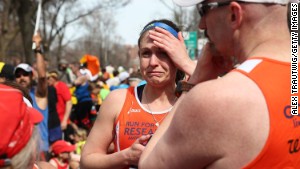 "How old was Martin Richard?"
"He was 8 years old," Neilds said.